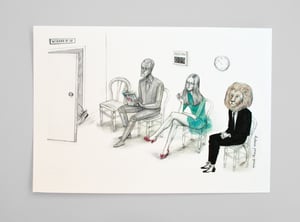 €

17.50
Print of the original artwork "The Wizard of Oz". 30 x 21 cm.
Printed on a matt Geler 190 gr paper. This paper, which is slightly ivory white, has a beautiful texture and preserves the details and colours of the original illustration.
All prints are signed and sent carefully wrapped and inside a stiff cardboard envelope.
(If you are interested in purchasing a print of an illustrations which is not shown at the shop, please contact me at: helena@helenaperezgarcia.com).
_____________________________________________________
Lámina impresa de la ilustración "The Wizard of Oz". 30x21 cm.
Impresa en papel Geler mate de 190 gr. Este papel, de un ligero tono marfil, tiene una bonita textura y preserva todos los detalles y colores de la ilustración original.
Todas las ilustraciones se envían cuidadosamente envueltas en un sobre de cartón rígido para un seguro transporte.
(Si estás interesado o interesada en adquirir una lámina de cualquier otra ilustración que no se encuentra en la tienda online, tan sólo tienes que mandarme un correo a esta dirección: helena@helenaperezgarcia.com)